If you thought faux painting was passé, think again. Faux decorative finishes are making a resurgence in the world of high-end interior design, and it's easy to see why.
Faux finishes break the limits of ordinary wall paint, offering a wide range of gorgeous, custom surfaces that achieve a new level of luxury. Professionally-applied decorative finishes can add rich texture and striking detail to amplify your home's elegance.
Although faux is defined as not real or genuine, a professional design-build firm can ensure that your faux finish appears authentic by using intricate painting techniques. They are also able to perfectly replicate natural materials such as marble, stone, wood, or any other desired texture.
Looking to update your home's style with rich textures and patterns? Take a closer look at the most popular faux painting trends of 2019.
Marble
Marble is a timeless architectural material characterized by its harmonious patterns of pure white calcite with delicate grey mottles and streaks.
Marble wall slabs are incredibly heavy and can present homeowners with maintenance challenges. Routine marble maintenance includes applying a protective seal to the delicate surface and conducting regular cleaning using only specialty solutions.
Marbleizing walls with a faux finish allows homeowners to enjoy a palatial appearance without worrying about the extensive upkeep of authentic marble.
Faux marble finishes also give homeowners the option to choose from a wide selection of color to create one-of-a-kind marble patterns for their walls. Walls with custom marble colors combine upscale elegance with a subtle pop of color.


Images via Pre-Tend Magazine
Leather Wallpaper
Take luxury to the next level with leather wallpaper, a faux finish that replicates the stunning visual texture of authentic leather.
Leather wallpaper became popular in the 1700s in Europe. Hand-made luxe leathers were masterfully designed and crafted, representing expert workmanship and skill few possess today.
Perfect for a living room, home study, or master bedroom, the supple finish of faux leather is an excellent way to add an element of sophistication to your home at a fraction of the cost of genuine leather.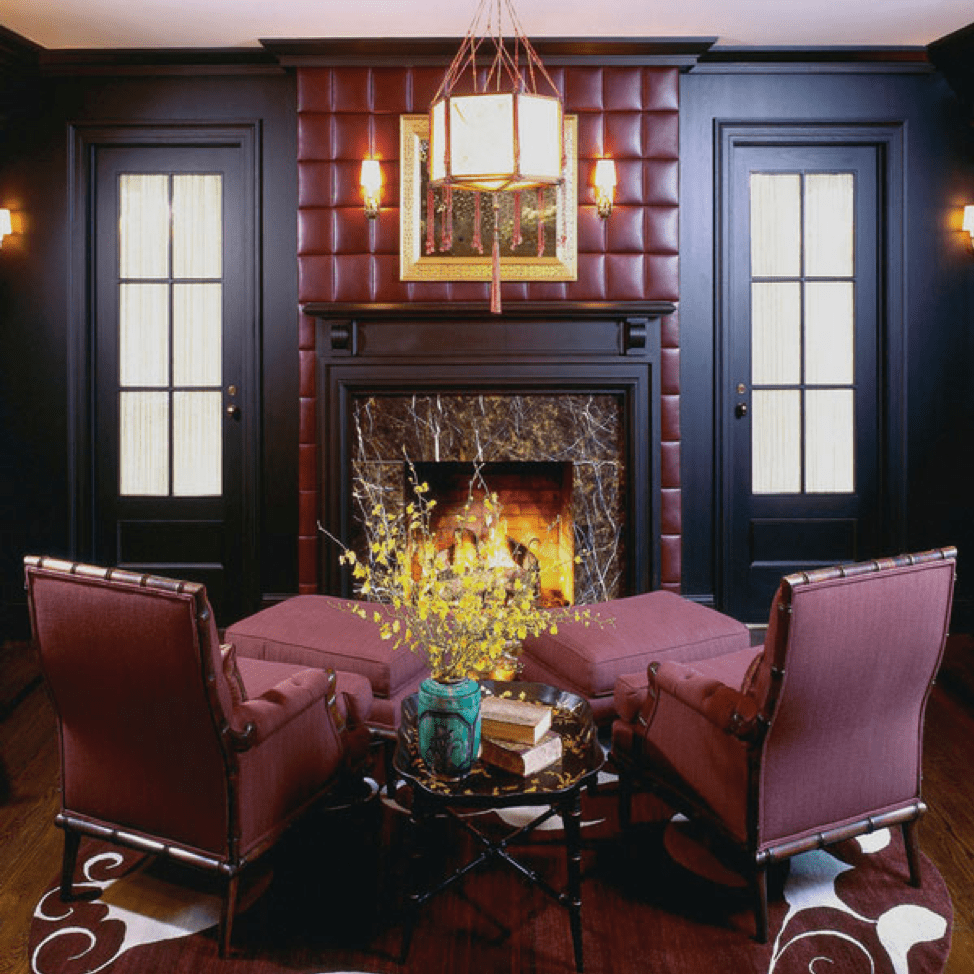 Image via Decoist
Intricate Woodwork
A refined and timeless look, faux wood finish is an excellent way to enhance the warmth and elegance of your home's aesthetic.
Faux woodwork and wood graining replicate the rich tones of wood with a stunning high-gloss finish. Professionally-crafted faux wood imitates the luxe finish of popular woods, including mahogany, walnut, birds-eye maple, vertical-grain oak, and many others.
Historic homes are usually full of intricate woodwork with elaborate takes on traditional molding, trimming, and furnishings. Our expert woodworkers and craftsmen work diligently to replicate the authentic finish of historic homes with faux painting. They are also able to restore the original woodwork of historic homes during restorations.
Faux woodwork completed by professionals ensures your decorative finish is just as sleek and detailed as authentic wood grain.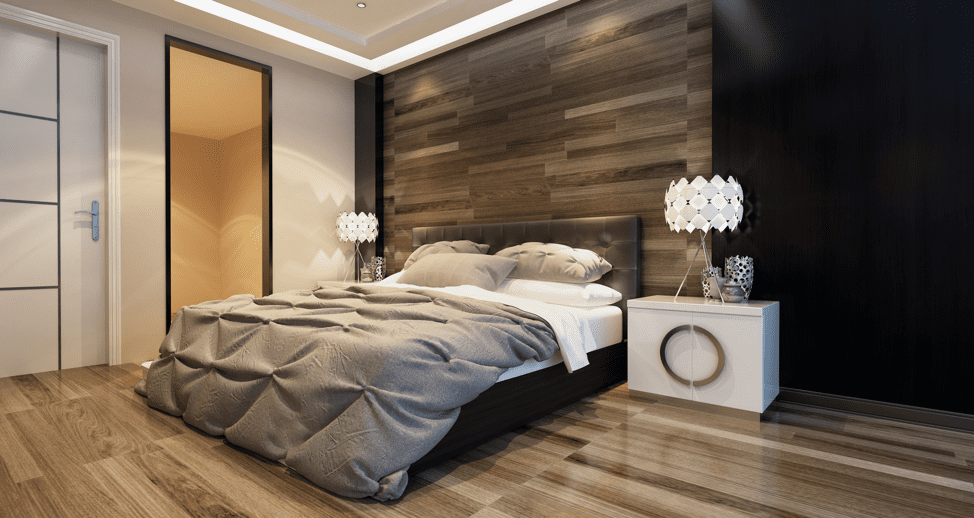 Venetian Plaster
This classic faux painting technique is characterized by its striking mottled texture. Venetian Plaster is applied using a variety of methods to reproduce the variegated walls found in Italy.
Venetian Plaster techniques produce a high-gloss, dimensional finish, and a captivating depth by amplifying light and dark shades of the same color. Popular Venetian Plaster colors include lush. earthy colors such as white, beige, and grey.
Recently, Venetian Plaster has been experiencing a major resurgence in high-end interior design. Modern plaster-loving interior designers such as Axel Vervoordt and Vincent Van Duysen have revived the technique's popularity by utilizing the plaster in their renowned home interior designs.
If you're looking to upgrade your walls with a beautiful, dimensional texture, Venetian Plaster is the perfect faux finish for your home.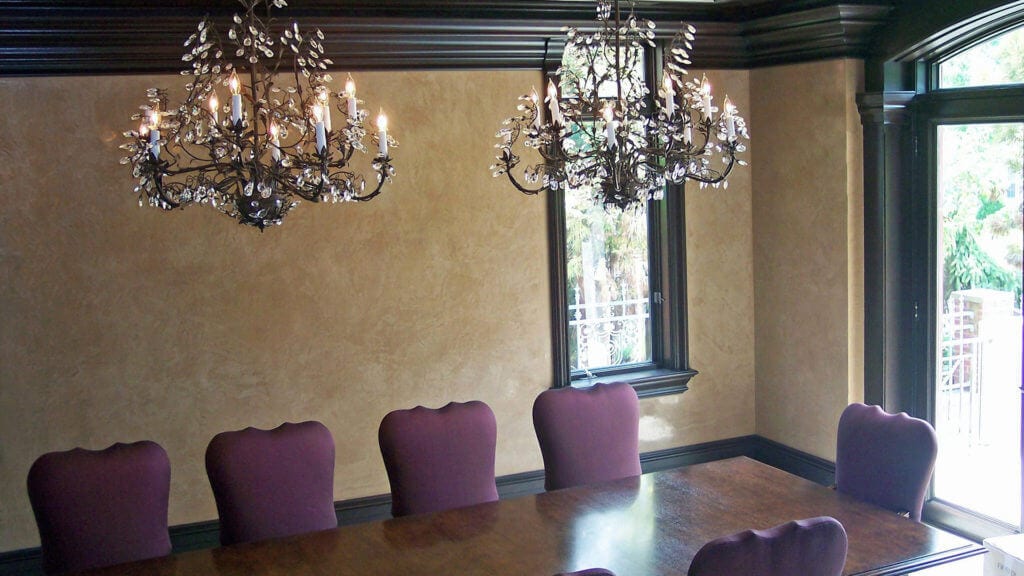 Textured Brick
Exposed brick is a huge interior design trend for modern luxury homes. Textured brick is the perfect faux finish for homeowners looking to achieve a refined farmhouse aesthetic.
Faux brick finishes are an excellent way for homeowners to add a rustic charm to their homes. Many homes use faux brick to add an extra element of sophistication and style their home's wine cellar, master bedroom, study, studio, or kitchen.
Decorative brick finishes provide the same beautiful aesthetic of authentic bricks without the hassle of construction. A faux brick finish reproduces the visual texture of exposed brick by applying masterful design techniques to grout and adhesive mix.
Design-build professionals are able to replicate the nuances, irregularities, and naturally distressed texture of authentic bricks. Faux painting specialists also offer a wide variety of brick shades to create beautiful custom brick finishes for your walls.

Painted Ceilings
Are you overlooking your ceiling? Leaving your ceiling a neutral shade is a huge missed decorating opportunity. A beautifully-crafted ceiling design can masterfully tie every element of a room together.
In most luxury homes, the ceiling design is given as much thought and attention as the rest of the home's features. A faux finish is one way to go—transform your ceiling using striking designs and decorative painting techniques.
Turn your ceiling into a work of art with faux painting techniques such as glazing, intricate stenciling, gold leafing, or color accents. A well-designed painted ceiling is an artful way to enhance your home's style and breathe new life into any room.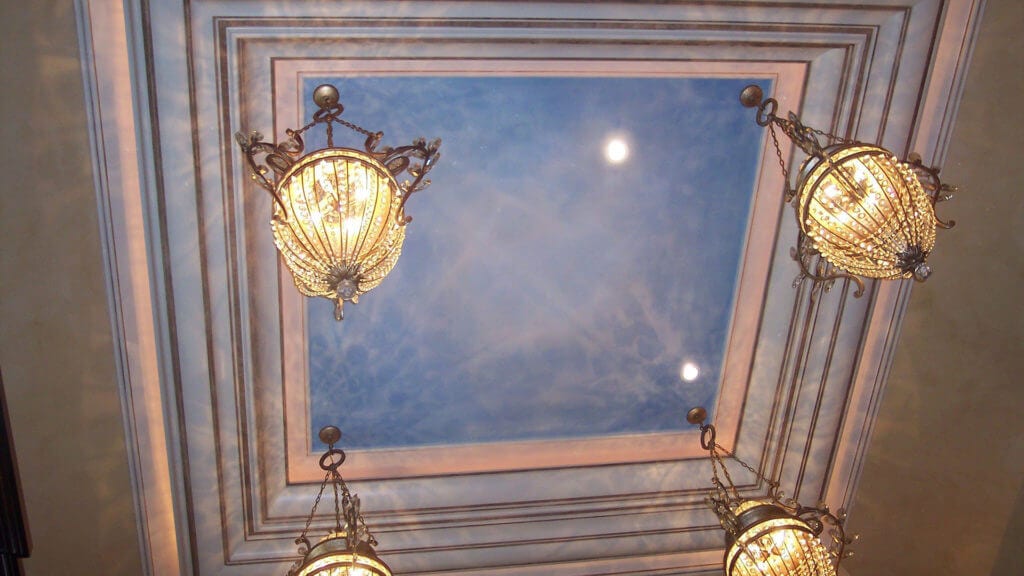 Inspired to Get Started on Your Faux Painting Project?
Our team of renowned design-build experts has the experience necessary to carry out the perfect faux paint finish for your home's renovation or remodel.
Gerety Building and Restoration can restore your historic home to its original beauty or add a decorative flair to your home with a faux painting project. Get in touch with us to discuss your vision.