Nothing about your dream kitchen should be ordinary—that includes your cabinets and shelves. Upgrading your cabinetry and shelving is crucial when taking your kitchen's luxury and style to the next level.
When planning your luxury kitchen remodel, think about how often you access your cabinets for glassware and dishes each day. Cabinets and shelves are easily your kitchen's most utilized features. Incorporating masterfully crafted cabinets into your remodel will amplify your kitchen's elegance and improve its efficiency.
An essential element of a kitchen's aesthetic, stunning high-end cabinetry becomes the focal point of your kitchen. Beautifully designed cabinets naturally frame your kitchen's floor, counters, and appliances with style and sophistication.
Achieve the perfect blend of form and functionality with your kitchen remodel by incorporating these high-end kitchen cabinet and shelf designs.
Flat Panel Cabinetry: Concealed & Seamless
Concealed, flat panel cabinets are an excellent storage solution for homeowners looking to achieve an upscale, minimalist aesthetic.
Subtle and hidden cabinet hinges, such as push latches or integrated handles, create the appearance of a cohesive and seamless surface. The sleek, continuous cabinet design provides a modern and refined kitchen style.
Flat panel cabinetry's cutting-edge design creates the illusion of "invisible kitchen storage." Seamless cabinets produce less visual clutter with their beautiful panels by masking not just kitchenware, but appliances when they're not in use.
If you're envisioning a more modern and sleek kitchen design, flat panel cabinetry's clean, contemporary style is an excellent option for your kitchen remodel.

Image via Architectural Digest
Open Shelving: Modern & Universal
Minimalistic and chic, open shelving has quickly become one of the most in-demand kitchen storage trends—and it's easy to see why.
With no cabinet doors or latches, open (or floating) shelves create a spacious and airy kitchen aesthetic; unlike solid cabinetry, which can make kitchens feel dense and cramped. Floating shelves maximize your open kitchen space and allow for your favorite dishes, drinkware, and decor to be put on display.
The open design of floating shelves creates quick and convenient access to kitchenware while cooking. Store all your dishware with open shelves, or utilize their unique design as an accent piece to take your kitchen's remodel to the next level.
Open shelves come in a wide variety of materials and finishes, allowing homeowners to customize shelves to achieve their desired kitchen aesthetic.
The design options are endless when it comes to open shelving. Take a closer look at some of the most popular open shelving styles, materials, and finishes:
Rustic Woodgrain
Industrial Piping
Metal Frame
Colorful Painted Shelves
Minimalist Clean Edges
Classic Solid Neutral Colors
Elegant Crown Molding Shelves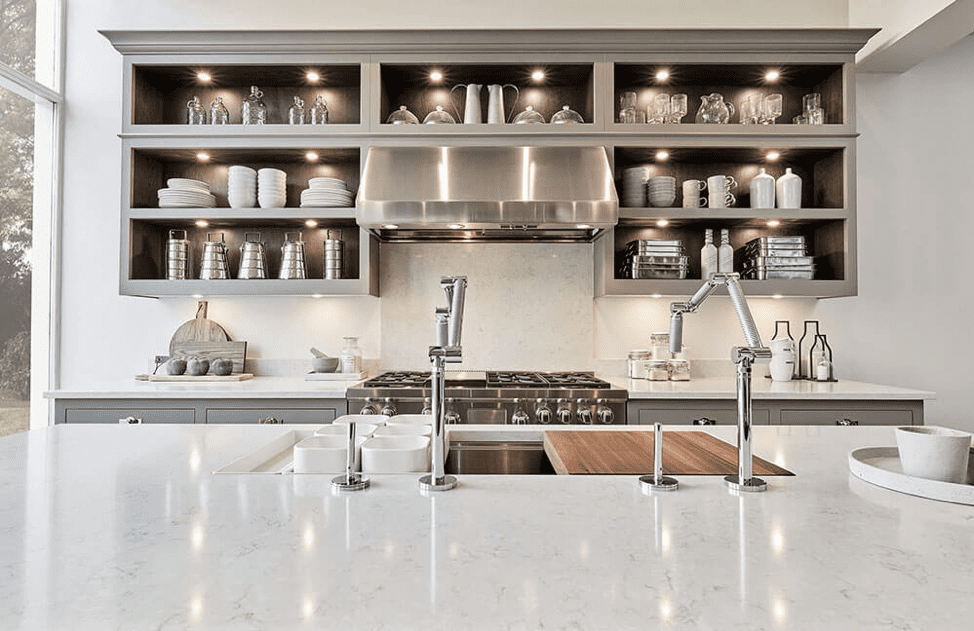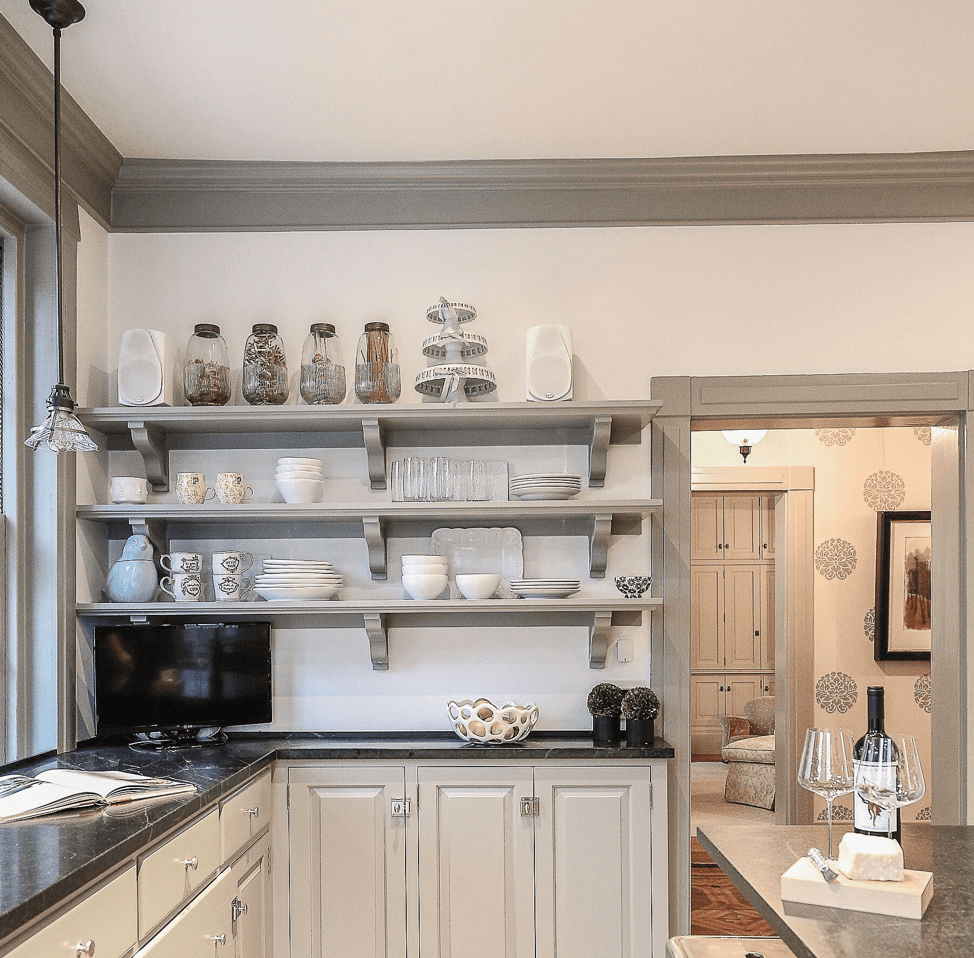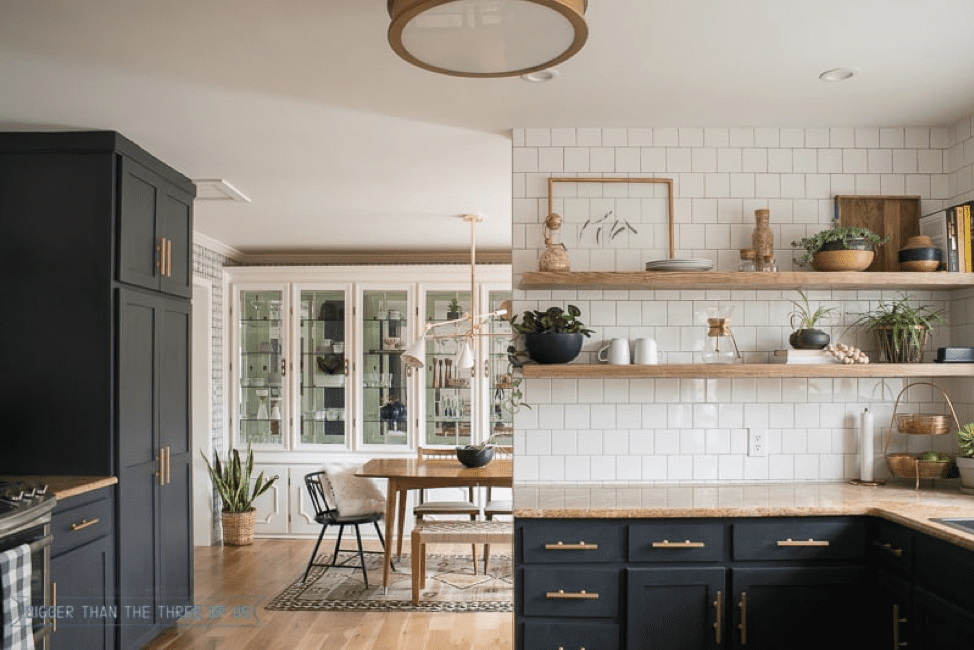 Image via Bigger Than The Three of Us
Shaker-Style Cabinets: Simple & Sophisticated
Timeless in their design, Shaker-style cabinets bring a sacred simplicity to kitchens and give homeowners the opportunity to customize their cabinets however they desire.
Characterized by their five-piece door with a recessed center panel, the sleek front slabs of Shaker panels pair flawlessly with any hardware to complement numerous kitchen styles.
Many homeowners incorporate white Shaker cabinets to achieve a clean, refined kitchen aesthetic. Others trade in traditional white shades for bold, darker tones to create a more lush, modern aesthetic.
When it comes to dark-hued Shaker cabinets, the most popular shades tend to be neutral: sage, chestnut, navy, charcoal, or other more subtle colors. The darker shades provide a stunning contrast when paired with brass hardware.
The combination of dark tones with brass handles and knobs has become increasingly popular with homeowners looking to achieve a contemporary and unique kitchen style.
If you're looking to achieve a more rustic or vintage appearance, Shaker cabinets can be tastefully downplayed with wooden knobs or a simple pull.
Image via KitchenDEV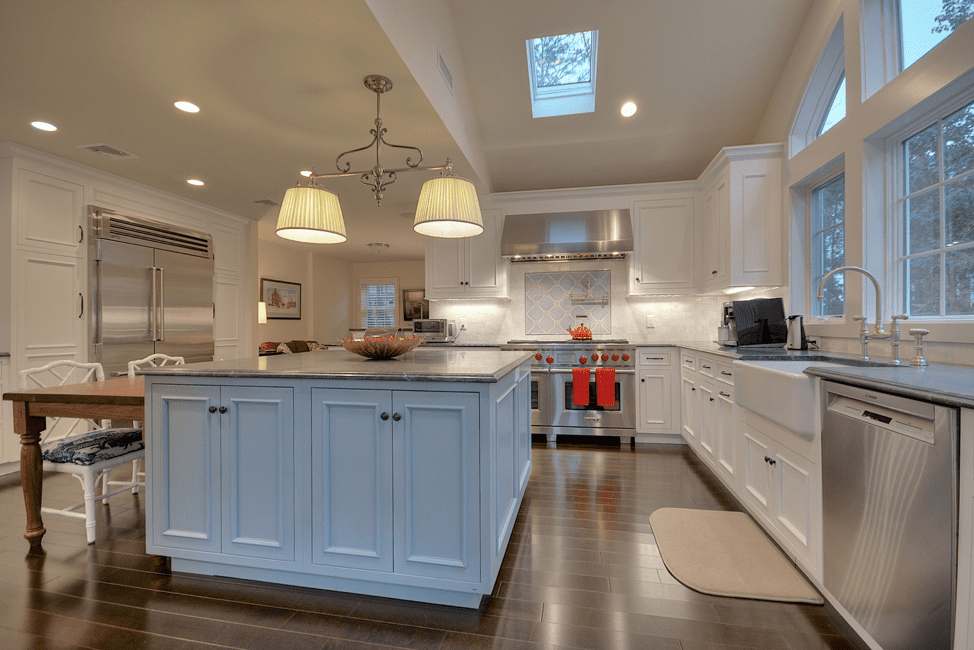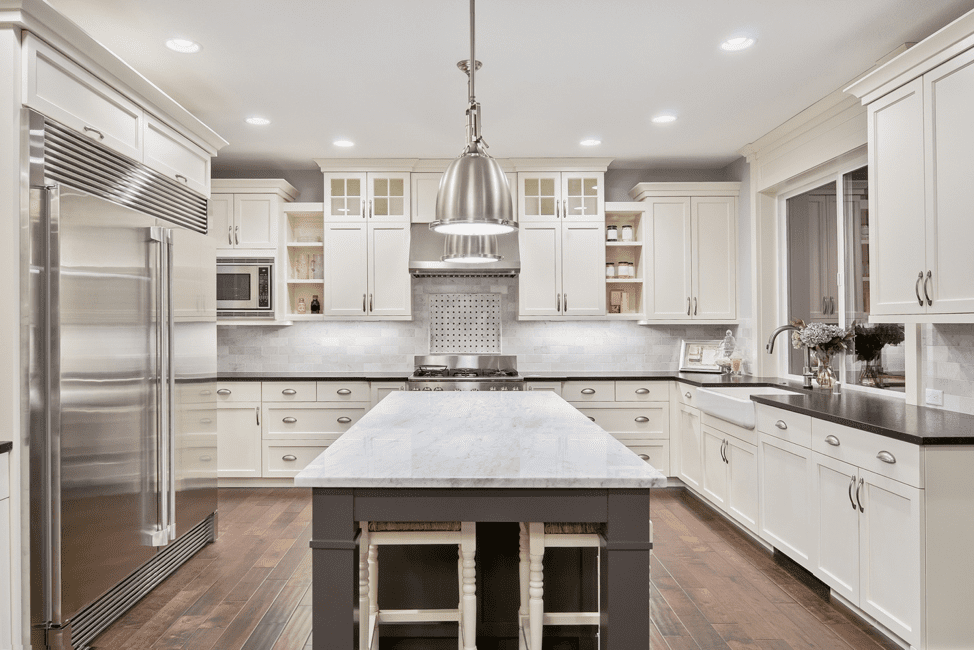 Glass-Front Cabinets: Timeless & Transparent
Cabinets with glass fronts are a versatile and elegant choice for your kitchen's remodel. The different textures, varying opacity levels, and stunning designs offer a wide variety of options to complement any kitchen aesthetic.
The transparency and delicacy of glass-front cabinets balance the heavy density of solid wall-to-wall cabinetry. Similar to open shelving, glass-front cabinets provide a visible space to display dinnerware, glassware, and collectibles—allowing your belongings and dishware to take center stage.
For homeowners that prefer to conceal the contents of their kitchen but love the clean look of glass-front cabinets, there are numerous opaque and obscure glass designs that provide the perfect balance of privacy and luxury. Less transparent glass designs include:
For glass-front cabinets, the frames and glass panels feature exquisite details that add an artistic flair and sophistication to your kitchen. Popular designs for glass-fronted cabinets include:
Beveled Glass
Gothic Arches
Wavy Glass Inserts
X-Motifs
Leaded-Glass Door Inserts
Reeded- Glass Doors
Circular-Motifs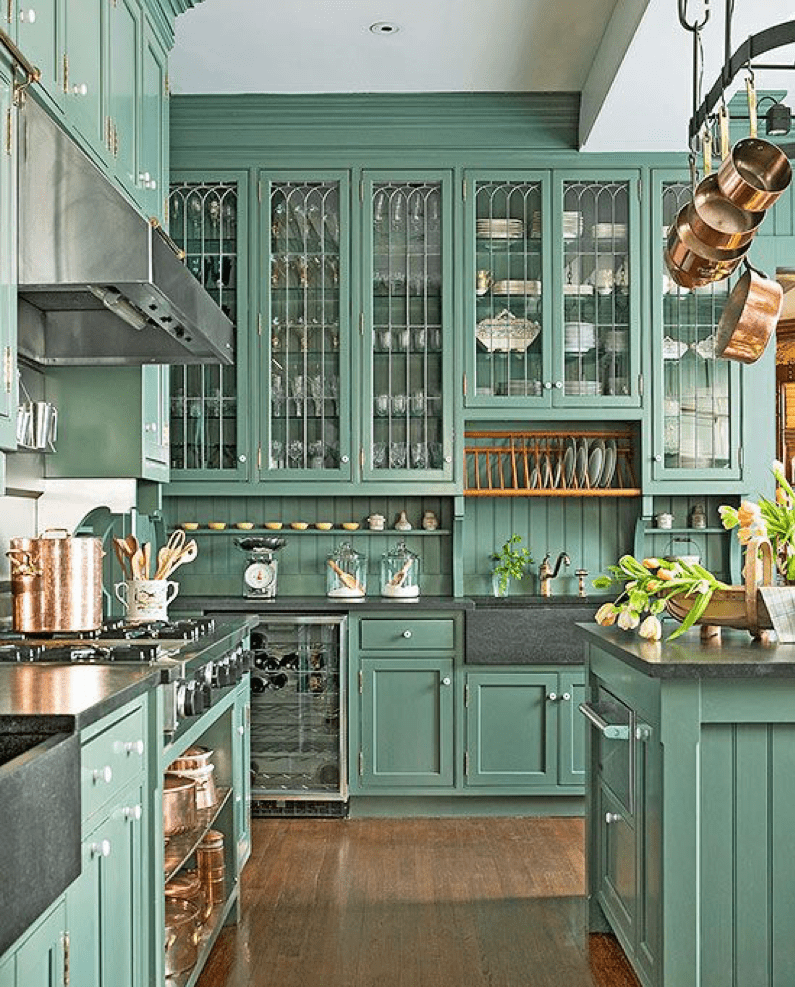 Image via Decoholic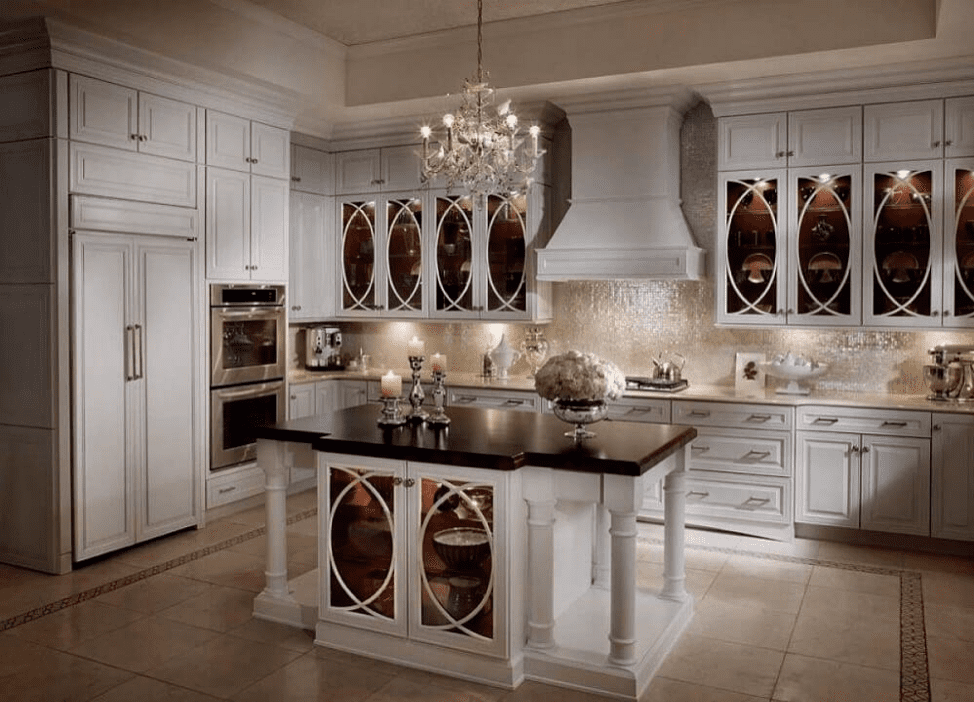 Image via Improvenet
Inspired to Remodel?
Beautiful cabinetry ties every element of a kitchen remodel together. Inspired to make your dream kitchen a reality? Trust the experts to bring your vision to life.
With over 35 years of professional experience as the premier luxury renovation firm in Westchester County, NY and Fairfield County, CT, we know exactly what it takes to create beautiful, luxury kitchens.
Have any questions about planning for a kitchen remodel? We're happy to help.