Inspired by the stunning homes of Provence, French country design creates an elegant simplicity that takes your home's luxury to the next level.
French country designs bring casual sophistication to your home's aesthetic by emphasizing natural or worn-looking materials with a soft, earthy color palette.
Achieve the relaxed, luxurious look of the Provençal countryside by incorporating these design elements into your remodeling project:
Natural Materials Inspired by the Provençal Countryside
Provençal design incorporates natural materials to achieve an upscale rustic aesthetic that demands attention.
Exposed brick walls are a popular natural material choice in French-style design. Utilizing exposed brick in your home creates a warm, inviting ambiance reminiscent of the French countryside. Add exposed brick to any room to bring rich texture and striking details to your home.
Lush and earthy, reclaimed wood beamed ceilings and walls take luxury to the next level with their sophisticated woodgrain finish and extraordinary architectural details. Reclaimed wood beams lend a natural element and vibrant dimension to any room of your home.
A French country-inspired home isn't complete without a stunning stone fireplace. Authentic French countryside fireplaces have hearths constructed with clay or brick and a stone or ceramic border to add a flair of décor and earthy elegance to your home.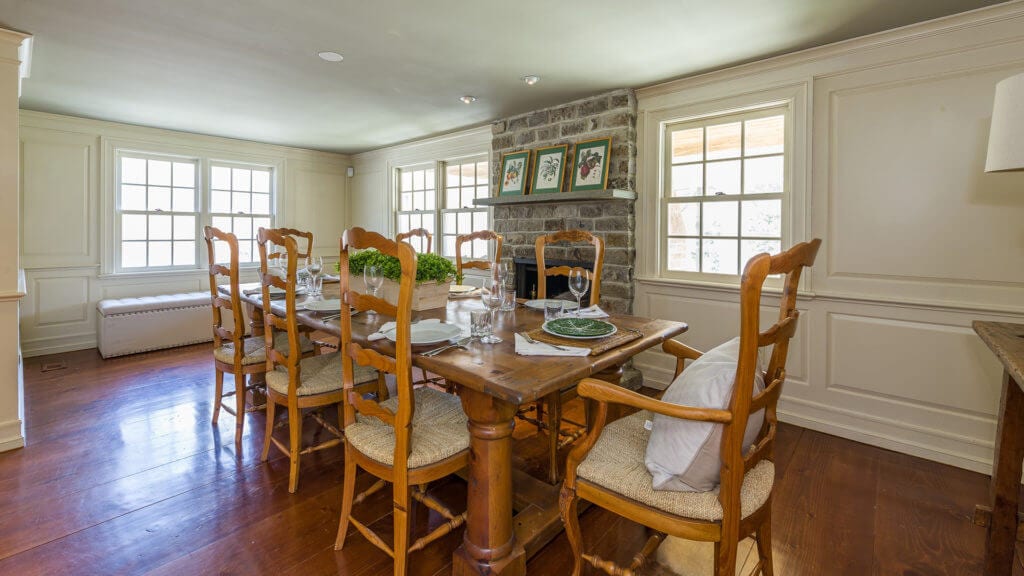 Soft, Earthy Color Palette
The French country style is designed to create a warm, inviting atmosphere. For this, French country design traditionally utilizes warm, muted, earthy tones.
Popular shades found in upscale, French-styled designs are neutral and have medium to low intensity, such as:
Sage
Creams
Soft Yellow
Light Pinks
Baby Blues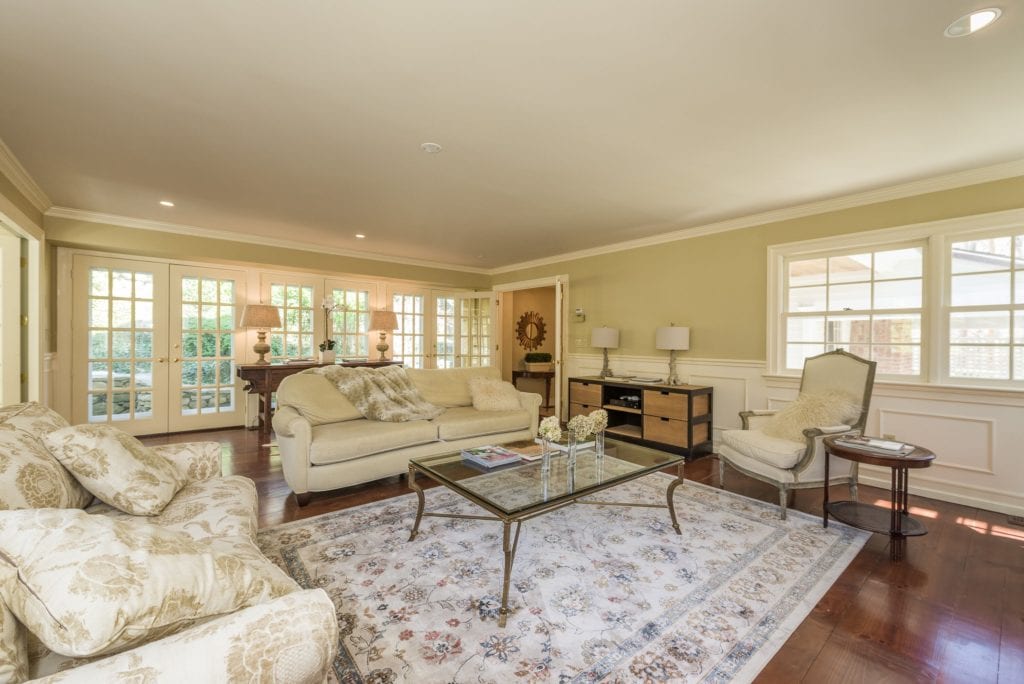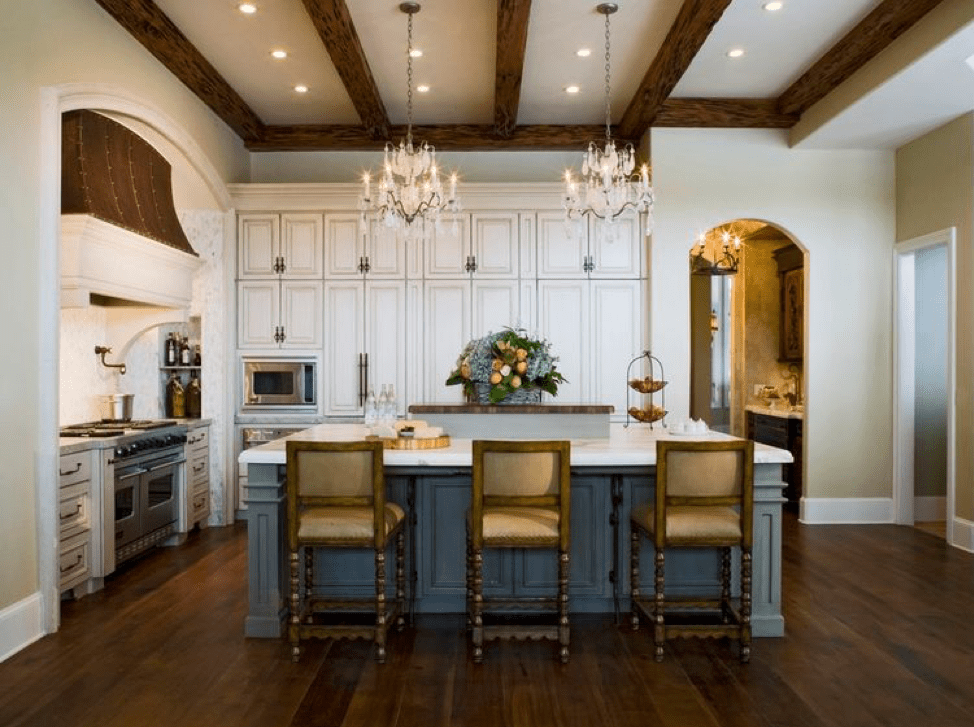 Image via Homedit
Refined Countryside Exterior & Light-Filled Interior
Masterfully combine rustic and refined elegance in your home's exterior with a French country inspired design.
Authentic French country exteriors are constructed with stunning stones or stucco. French-style home exteriors are characterized by their sophisticated and Old-World details such as rough and smooth textures, fanciful wrought-iron balconies, tile roofs, bold colored shutters, and elegant portico.
There are countless reasons why the French country style remains timeless and inviting centuries later—especially the focus on natural light. Large, dramatic windows are used to maximize the light, airy feel of every room.
Classic picture windows allow the rooms of your home to be flooded with sunlight, adding beauty and elegance to your interior and exterior design.
Window designs commonly found in French country inspired homes include:
Casement
Transom
Double-Hung
Narrow Arched Top
Narrow Flat Top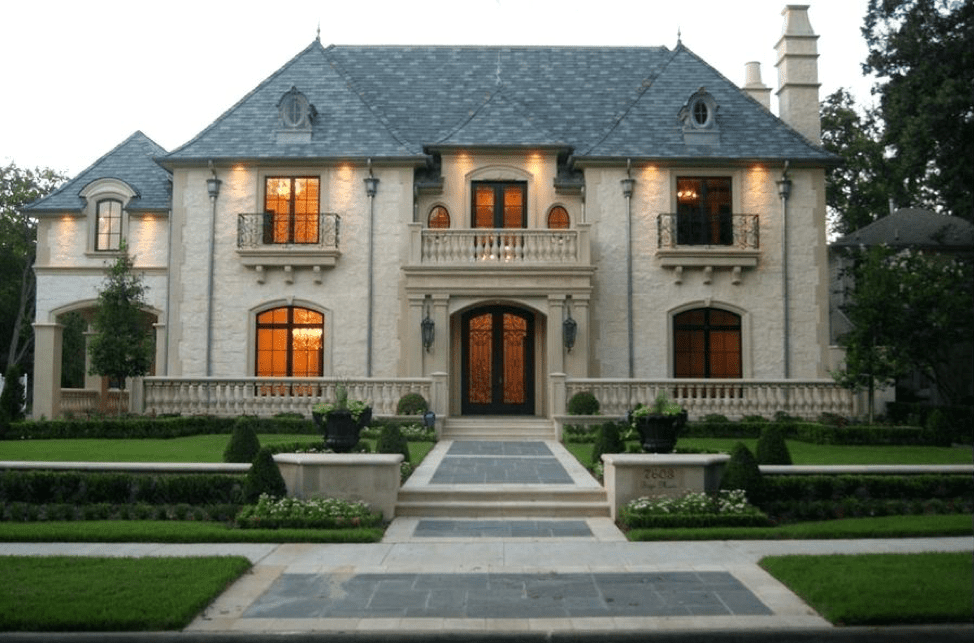 Image via Tradition-Reform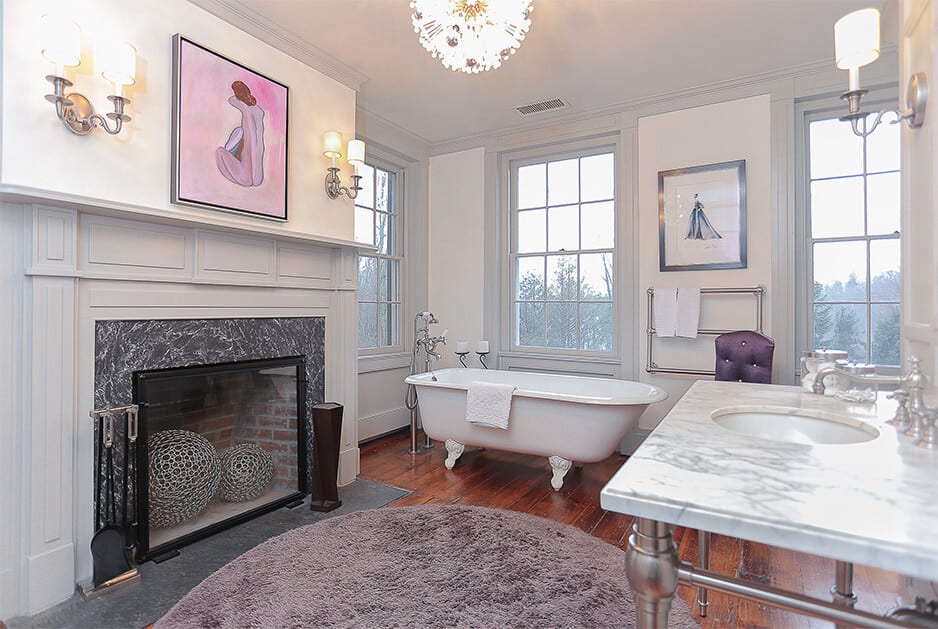 Old World Distressed Finishes and Patina
Authentic French-style designs wouldn't be complete without rustic distressed details.
Provençal design achieves its relaxed and subdued aesthetic with distressed and patina finishes on otherwise ornate home design elements, such as mantles, cabinets, and doors. Their Old-World effect adds a decorative flair and a sense of upscale sophistication to your home's interior.
Vintage construction materials aren't required when creating an authentic patina texture or distressed surface in your home. Professional faux painting techniques can create a distressed appearance on any surface, allowing you to decide how emphasized or subtle you'd like the distress to look.
Image via Homedit
Inspired to Get Started on Your Home Remodel?
Our team of renowned design-build experts has the experience necessary to achieve the upscale French Country aesthetic you've been dreaming about for your home remodeling project.
Gerety Building & Restoration will work closely with you to make your dream home a reality. Our team of experienced design-build professionals is here to provide guidance and best-quality solutions throughout your project.
Let's discuss how we can get started building your dream French country home: