Your kitchen is a genuinely unique place. On one hand, it's designed to work, being carefully organized for efficiency and productivity. Ideally (not always, though), you know where each cup, ladle, measuring spoon, pot or pan is located, and meals can be created with relative ease.
On the other hand, your kitchen is also a place where you can showcase your own style, holding tremendous opportunity to customize, personalize, and create a truly breathtaking space.
One of the ways through which you can add to your personalized look is by investing in a custom backsplash. Interestingly enough, the backsplash (much like the kitchen!) started as a hardworking, utilitarian feature. It was a way to catch the splashes, drips, and splatters that go along with cooking (for some more than others), and provide a surface that is easier to scrub and clean than a wall itself. Now, however, backsplashes not only provide a cleanable surface, but they also provide an extra pop of stunning color and texture that really ties your kitchen's style together.
Just as an example, take a look at the photo below that was taken after a kitchen remodeling project we completed in Larchmont, NY.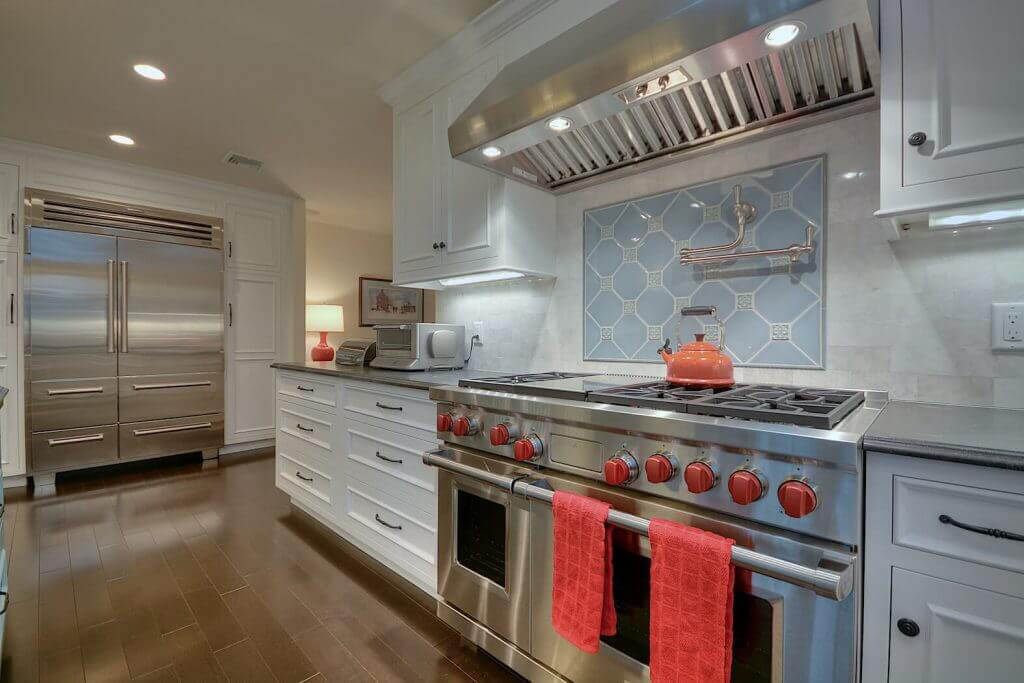 What Kind Of Backsplashes Are Available?
The short answer is that there are many, many varieties you can choose from. If your backsplash addition is part of a kitchen remodel or design, take the time to dialogue with your professional builder, ensuring that you know the options you have.
Here is a quick overview of some of the more popular materials to choose from:
Stone – We talked recently about the benefits of stone counters, and specifically granite. This material can make a beautiful, unique backsplash because of the individual colors and patterns that stone offers.
Glass – Because of how it loves to play with light, glass creates an attractive, sparkly appearance. This choice is also very easy to keep clean! And, for an even more custom look, you can try a glass mosaic pattern.
Metal – This is a true workhorse, creating an industrial, high-power look. Aside from just a stainless steel option, however, there also are a variety of patterned materials available, as well as custom patinas.
Ceramic tile – Resistant to stain and with a wide spectrum of colors and styles to choose from, ceramic tile is a wonderful, customizable option. The famous "subway tile" is one of the most popular, providing a rugged, timeless, glazed surface.
Porcelain tile – Because it is made from compressed porcelain dust, porcelain tile is tough, stands up to scrubbing, and can be purchased in a variety of finishes.
Wood – While typically the backsplash creates a point of stylish contrast with cabinetry, a wood backsplash can be very attractive.
Plastic – If you are thinking about tackling a DIY kitchen update, there are many options for plastic backsplashes with an adhesive backing that can be simple cut to size and applied. This can be a fun, budget-friendly project!
How Do You Choose Your Backsplash Style?
One way is to simply browse the different styles that are popular today, allowing you to catch a little inspiration and discover something that you might not have thought of before.
Because there are so many different options that can be pursued and narrowed down based on your own personal style and budget goals, it also is worthwhile to talk to a professional home builder and kitchen remodeler.
Here at Gerety Building and Restoration, for example, we can provide you with nearly limitless tile options, primarily because we make many of the products we offer by hand. This means that we can not just get close to what you have in mind, but create exactly what you are looking for. It also means that your kitchen's backsplash style will be one of a kind! If you have any questions about the kitchen remodeling process, please do not hesitate to contact us. It would truly be our pleasure to help.