Westchester County and Fairfield County are home to some of the finest architectural masterpieces in the country, many of which were built hundreds of years ago. When working on a historic home, it's critical to balance preservation and innovation to maintain the integrity of the structure.
If you're thinking about making improvements to your historic home, it's important to know the difference between restoring and renovating when determining which approach is best suited for your period-style home.
Often the words "restoration" and "renovation" are used interchangeably. In reality, these words carry two distinct definitions.
What Does Home Restoration Entail?

Some home designs are irreplaceable and too precious to even consider remodeling. Historic home restoration involves rehabilitating the interior and exterior to its former glory—restoring the home's period-style and structure to a pristine condition.
If your goal is to restore your home's original structure and authentic aesthetic, then a historic restoration is best suited for you. Restoration efforts often include:
Refurbishing wood floors
Removing carpeting
Repairing holes and cracks in walls
Mending old fixtures
Replacing damaged fixtures with new replicas
Many historic homeowners use their restoration projects as an opportunity to upgrade other aspects of their home to improve efficiency and overall function. These updates include:
Electrical systems
Plumbing and sewer
Heating and cooling
Replacing outdated materials, like lead and asbestos
Repairing or replacing deteriorated elements
For over 35 years, we have had the privilege of restoring numerous historic properties. The most essential component of restoring any historic home is ensuring the home's structure, integrity, layout, design, and all other salvageable aspects are preserved and restored to an immaculate condition.
What Is Involved in Renovating Your Historic Home?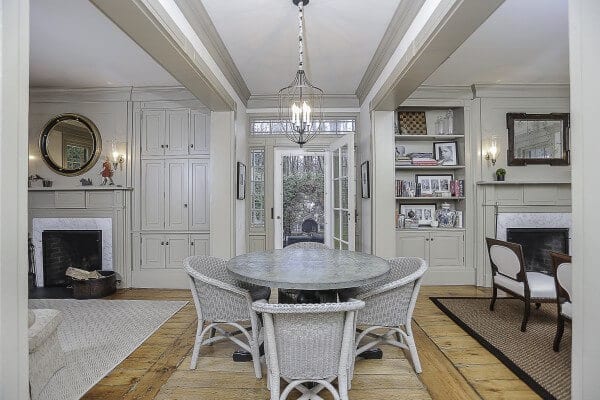 A masterful historic renovation successfully balances the charm and history of your home with newly implemented updates and improvements.
Historic renovations are ideal for those who appreciate the history and structure of their home but would also like to update their living space with modern aesthetics and functional features. Renovation work can include upgrading both the interior and exterior. Homeowners also often opt to renovate their historic home to increase its market value and curb appeal.
Blending styles, eras, form, and function while reinforcing your home's authentic structure and aesthetic requires a renovation professional that specializes in preservation. When renovating a historic home, a specialist will help you to identify the original aspects of your historic home that you'd like to preserve and the aspects you'd like to modernize.
Historic homes are timeless in their beauty, but they do grow increasingly delicate over time. As a result, upgrades and improvements can take a toll on your home if not executed correctly. To maintain the integrity, bones, and charm of your historic home, employing a renovation team that can provide specialized designers, contractors, and vendors is crucial. They ensure that you're meeting all building codes and standards throughout the renovation process.
Breathe New Life Into Your Historic Home
Unsure of the best route for your historic home improvement project? Talk to a seasoned building and design professional about your home and your vision. They can help you navigate local codes and regulations throughout the renovation or restoration process.
If your historic home is in Westchester or Fairfield County, look no further than the experts at Gerety Building and Restoration for all your historic home improvement needs. We have a team of experts that specialize in rejuvenating historic properties and bringing them back to life.