Outdoor kitchens are the perfect setting for an unforgettable summer. If you enjoy cooking, relaxing, and entertaining, a luxury outdoor kitchen will be the perfect addition for your home.
There are countless benefits to having an outdoor kitchen, ranging from saving on utility bills to creating the perfect area for entertaining friends and family. You may be surprised by the countless ways to enjoy your outdoor addition.
Luxury outdoor kitchens can be designed to fit every home aesthetic. You can opt for a sleek, modern outdoor kitchen with clean, contemporary design elements. If you're looking for a fresh, sophisticated setting, consider incorporating stainless steel appliances contrasted by darker granite, concrete, or marble countertops.
If you're looking for a grander, more luxurious design, there are countless ways to take your outdoor kitchen to the next level. Create a high-end gourmet setup by incorporating a broad range of the highest quality outdoor, weatherproof appliances and accessories. Get creative with your outdoor culinary space to maximize functionality and align your design with the rest of your luxury living space.
No matter how you approach your outdoor kitchen, it will absolutely pay off. Let's take a closer look at all the benefits that come with investing in an outdoor kitchen:
Increases Home Value
Outdoor kitchens are a luxury feature from a real estate perspective, significantly increasing the marketability of your home (should you choose to sell it). A professionally designed and constructed outdoor kitchen is attractive to potential buyers, allowing you to sell your home faster and at a more desirable price. In fact, compared to other outdoor home improvements, outdoor kitchens prove to have a higher return on investment.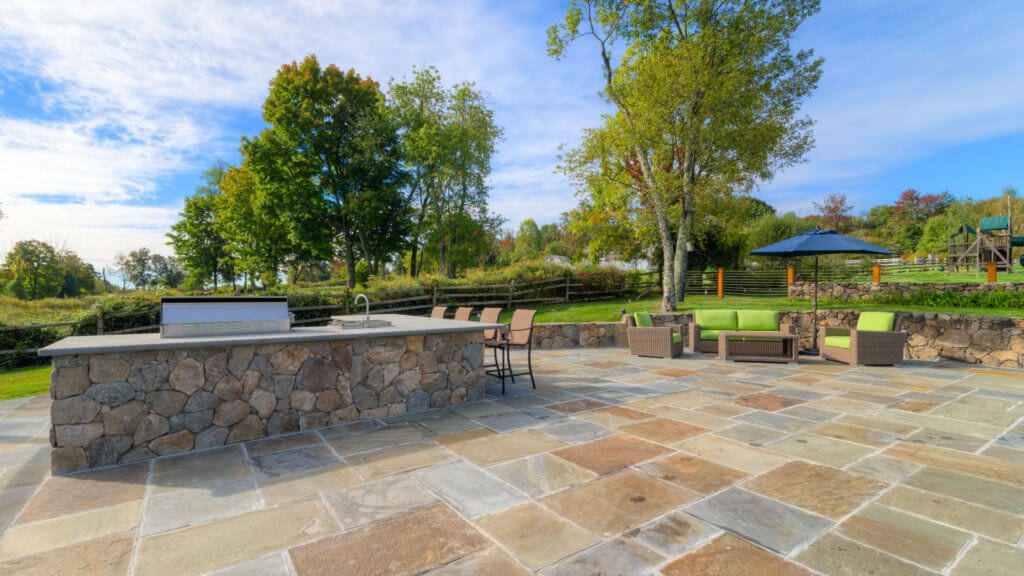 Great for Entertaining
Transform your backyard with a modern, one-of-a-kind outdoor kitchen and entertainment area to create the perfect backyard space where delicious food and great company are never far from reach.
A well-crafted and beautifully designed custom outdoor entertainment area will be the luxurious centerpiece of your backyard, offering a space to unwind and entertain.
When creating an outdoor living space, it's important that the area reflects the aesthetic of your home to create a seamless, cohesive atmosphere. It's crucial that the materials used and appliances installed for your custom outdoor space complement the natural landscape, balancing aesthetic and practicality to create the perfect outdoor living space.
A design-build firm can help bring your project to life. A team of expert architects, designers, contractors, and subcontractors will help ensure your outdoor renovation is designed to seamlessly integrate with the style of your home using the highest quality materials.
More Time Outdoors
An outdoor kitchen is a great way to spend more time outdoors cooking, entertaining, and relaxing during warmer weather. A masterfully constructed, beautifully designed outdoor living area will transform your backyard into your own personal getaway.
When constructed by professionals using high-quality materials, your outdoor area will be a luxurious way to enjoy your backyard for many years to come. Make the most of your backyard with the addition of a luxurious outdoor kitchen and patio area.
Interested in creating an outdoor kitchen that balances gourmet functionality and high-end aesthetics? As the leading luxury home renovation firm in Westchester and Fairfield Counties, we're eager to see how we can make your dream outdoor kitchen a reality.