Keeping up with the latest interior design trends is a fun but exhausting way to regularly redefine your home's aesthetic.
Trends are just that: trends. They're inherently fleeting and have an expiration date (Remember the shag carpet and wood panel obsessions of the '70s?). As soon as they fall out of popularity, trends can tarnish your home's style with an outdated appearance.
Avoid the headache and time suck that comes with keeping up with passing trends. For a timeless kitchen design, incorporate elements that offer simple elegance and superior function to your remodel.
Make sure your kitchen's design stands the test of time with these timeless elements:
Shaker Style Cabinets
Simple and sophisticated in their design, Shaker-style cabinets offer your kitchen a timeless, clean aesthetic.
Characterized by their five-piece door with a recessed center panel, the sleek front slabs of Shaker cabinets achieve a refined, luxurious kitchen style.
The classic Shaker-style center creates a versatile base that pairs flawlessly with any hardware. Dressing Shaker cabinets up or down with hardware adds a unique decorative flair that can be customized to complement numerous kitchen styles.
Custom Cabinetry
Maximize your space to its full potential with custom cabinetry.
Unparalleled in their style and function, custom cabinetry and shelving creates one-of-a-kind storage solutions that allow homeowners to adapt their kitchen to their individual lifestyle.
Your building professional can help you decide the finish, materials, and style of your built-in cabinets and shelves to create the best custom storage solution for your needs.
Stone Countertops
When it comes to choosing a countertop material, stone is the gold standard for both durability and style.
Your kitchen counter is a versatile space where you prepare food, gather family, and organize. Stone is a luxurious countertop material that creates a sophisticated aesthetic and offers a decorative focal point in your kitchen.
A quality stone countertop's value and luster last a lifetime. Popular stone choices for a timeless countertop include:
Granite
Marble
Manufactured Quartz
Soapstone
Subway Tiles
The clean, classic style of subway tiles continues to be a top choice for homeowners looking to achieve a timeless, refined kitchen aesthetic. The pattern and sheen of subway tiles provide kitchens with a versatile and striking backsplash.
Subway tiles are not only a high-quality material, but they amplify your kitchen's style while still being neutral. Their sleek pattern offers a gentle texture that serves as the perfect kitchen backdrop.
If you want to incorporate a unique subway tile pattern into your kitchen's design, ask about installing your tiles in a herringbone pattern or with an alternate grout color to create a dramatic contrast.
Focus on Function
Trendy kitchens are visually stunning but aren't always designed with optimal functionality in mind.
When planning your kitchen remodel, it's crucial to hire a design-build professional that will focus on providing your kitchen with the perfect blend of form and function.
Remodeling is an opportune time to upgrade your kitchen's efficiency with smart technology and the latest appliances. Take your kitchen's luxury and function to the next level with smart faucets, fans, window coverings, and appliances—all of which we specialize in.?If you value safety, efficiency, and convenience,?ask about our smart system capabilities.
Your kitchen should function to fit your unique lifestyle. As you embark on your remodeling journey, discuss the intended uses for your kitchen with your builder: the cooking you do, appliances you need, and any details that will elevate your kitchen's design from suitable to superior.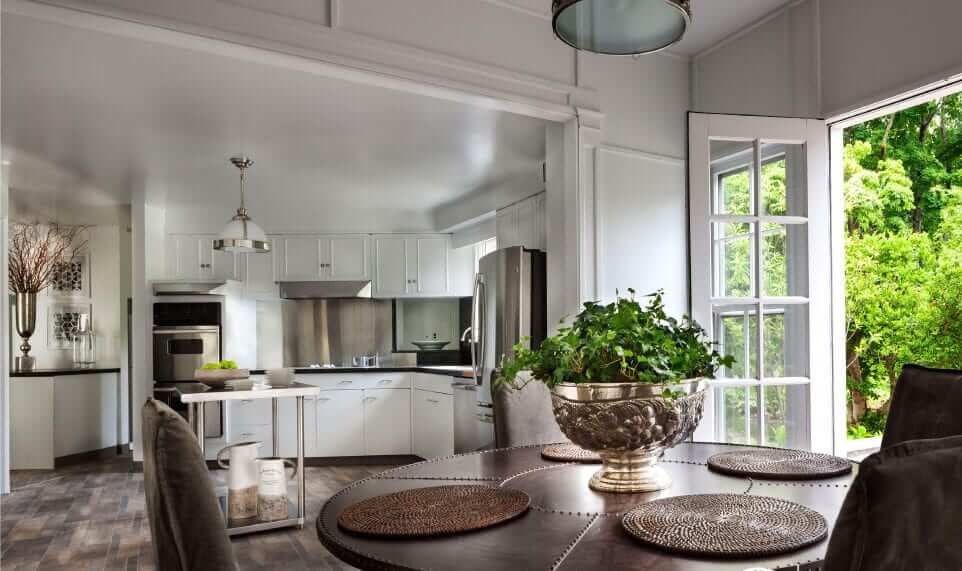 Ready to Transform Your Kitchen?
Skip the trends and opt for a timeless kitchen design you'll enjoy for years to come.
When you're planning a kitchen remodel, trust the experts. Gerety Building & Restoration can work with you to design the perfect, timeless kitchen for 2019.
Show us how you envision your dream kitchen and we'll make it a reality.