Bathrooms should serve as a personal haven where luxury meets utility. A masterfully designed bathroom remodel will provide the means and space you need to comfortably complete your daily routine while emphasizing your personal style.
Choosing the right sink is one of the most important decisions you'll make when determining your bathroom remodel needs. A beautifully-designed and practical sink will masterfully tie together every element of your bathroom.
Take your bathroom to the next level with these high-end sink styles:
Undermount Sinks
Characterized by their sleek look, undermount sinks have rapidly grown in popularity. Their refined, minimalistic style is a perfect fit for modern or contemporary homes.
Undermount bathroom sinks are often custom-made, sometimes permanent, fixtures designed to naturally integrate with your countertop. Their seamless drop-in serves as the sink's defining feature. The absence of a sitting sink lip or overhang allows undermount sinks to harmonize with your vanity for a cohesive and sophisticated surface.
The sleek drop-in design of undermount sinks makes keeping a clean sink and counter an easy and efficient process.  Buildup can easily be wiped from the counter to the sink to maintain a sanitary vanity area. Other sinks with a lip or overhang gather dirt, debris, and dust over time in crevices and smaller, hard-to-reach areas.
Create the appearance of a sleek, cohesive vanity surface with a refined undermount sink.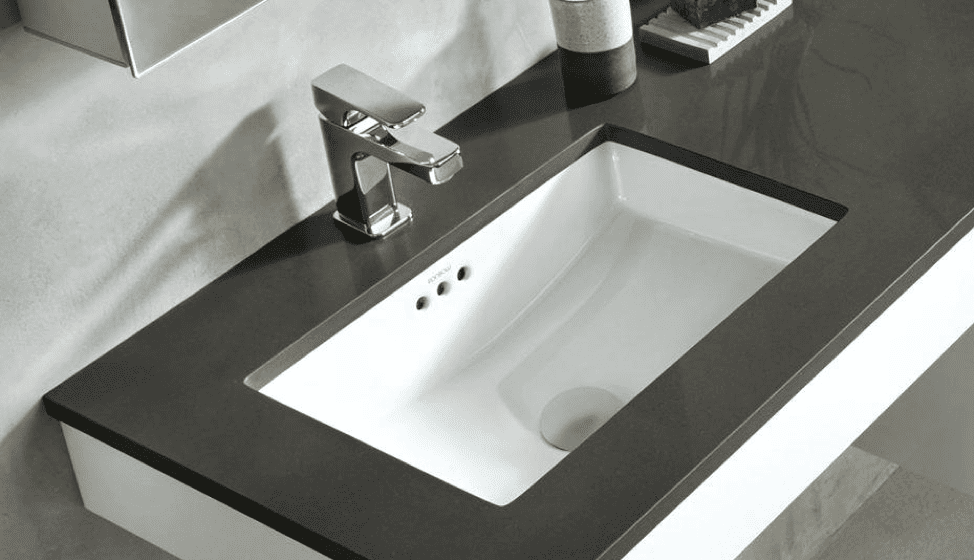 Image via Mitralink
Vessel Sinks
Best known for their distinct freestanding basins, vessel sinks create a dramatic look with a contemporary appeal.
The versatile basins are available in a wide range of materials, allowing homeowners to choose a sink that perfectly complements their bathroom design.
Popular basin finishes include:
Stone
Ceramic
Glass
Copper
Metal
Marble
Wood
Aluminum
Hand-Painted Ceramic
Unlike other bathroom sinks, vessel sinks don't require an under-the-counter installation. Vessel sink basins, instead, sit on top of the vanity, increasing the counter space surrounding the sink's basin. The unique placement of vessel sinks naturally calls attention to the basin, creating a decorative focal point in your bathroom.
The vessel sink's placement also allows for easy installation and the option to swap out your basin should you choose to update your bathroom with a new look.
When remodeling your bathroom to incorporate a vessel sink, be sure to choose your sink before the vanity. Since the sink's basins will rest on the countertop, the vanity's height should accommodate the sink's dimensions. Homeowners often opt for a vanity a few inches shorter than normal to level their vessel sink. Creating extra space between the countertop and ceiling gives the illusion of a larger room and taller ceilings.
The successful integration of a vessel sink requires an expert eye. When upgrading your bathroom, set yourself up for a high-quality and beautifully-designed renovation by hiring a design-build firm that specializes in bathroom remodels.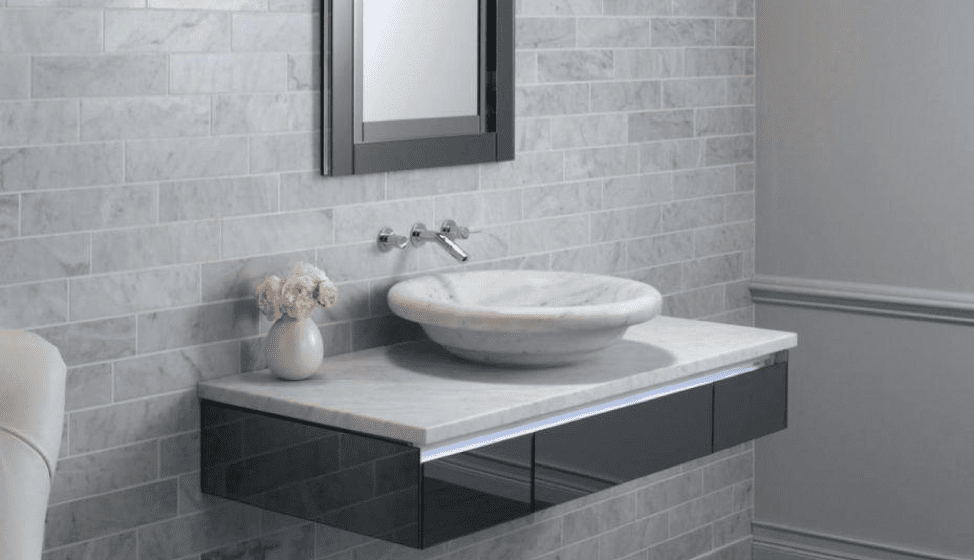 Image via Deerheart
Trough Sinks
Over the decades, trough style sinks have made their way from the farmhouse and into high-end home design. Their timeless design and perfect blend of utilitarian and industrial aesthetics make it easy to see why.
Spacious and available in a multitude of styles, trough sinks are a stunning addition to any bathroom. They are available in a wide range of designs for every home style ranging from farmhouse rustic to more sleek, contemporary styles.
Incorporating a trough sink into your bathroom has many advantages. Their classic design and spacious basin provide the functionality of dual sinks in the form of a statement piece that stands out from the standard double vanity.
Trough sinks require a single and spacious basin unit, allowing for an easy and practical plumbing set up. Minimal plumbing also allows for more cabinet and shelf space below the trough sink, effectively enhancing your bathroom's storage.
Trough sinks can be incorporated by wall-mounting (floating) or integrating the sink into your vanity's countertop. Similarly, faucets for trough sinks can either be wall- or deck-mounted.
Integrated trough sinks, units that act as both the countertop and sink, present another benefit to homeowners: increased hygiene and easy maintenance. As a single unit, integrated trough sinks don't include the seams found in traditional vanity setups, making it easy to maintain a sanitized area and prevent bacteria build-up.
Trough sinks offer a unique and spacious solution for homeowners looking for a high-end sink option beyond the typical double vanity.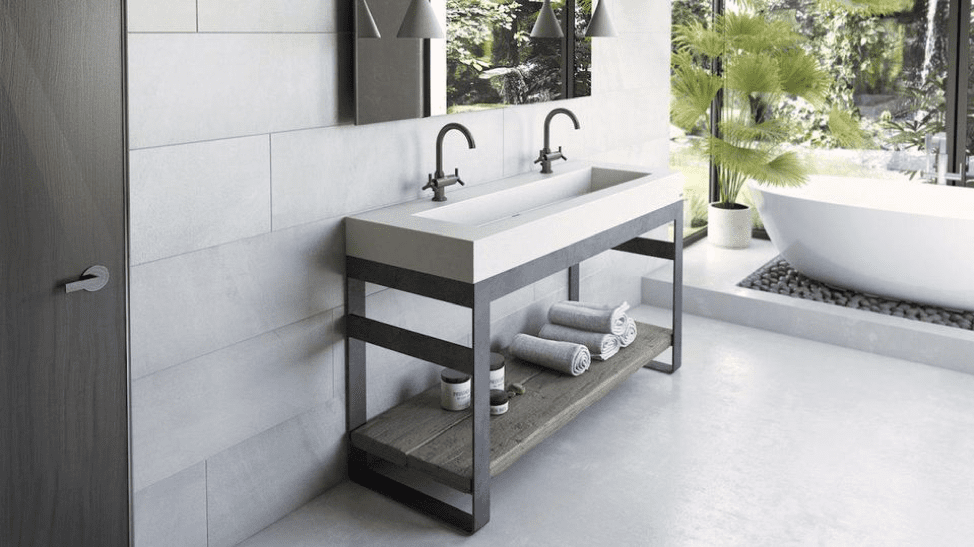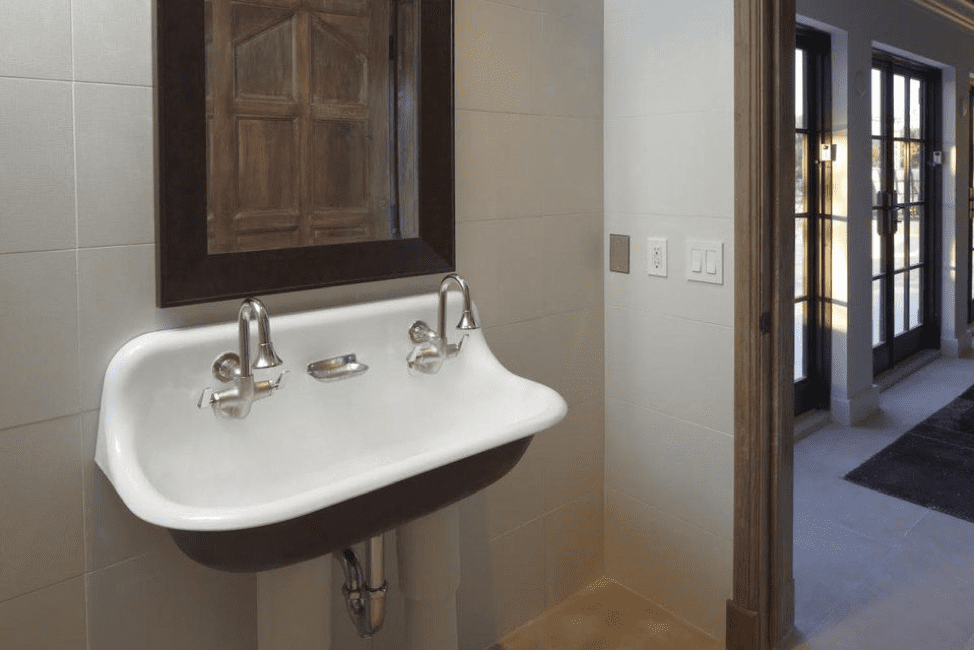 Images via Forbes
Floating Sinks
Floating sink vanities offer a contemporary look that creates the appearance of extra space. Wall anchors are the secret behind the vanity's "floating" illusion, raising the unit off the ground to allow for space between the bathroom floor and vanity base.
The extra space allows light to pass beneath the vanity, making your bathroom seem larger and more spacious. The vanity's raised placement also presents an opportunity to create an uninterrupted flooring surface, fully displaying your bathroom remodel's gorgeous new floor.
The vanity's raised placement not only makes cabinetry appearance less dense, but it also allows homeowners to accommodate any height specifications or create extra storage space underneath the vanity. The extra space beneath also makes cleaning a breeze, providing easy access underneath the vanity to rid your bathroom of any dust, dirt, and build-up.
Defined by their clean lines, linear surface, and minimalistic appearance, floating vanities are great statement pieces for contemporary and modern bathroom remodels. A floating vanity is a refined and stylish bathroom sink and storage option for homeowners looking to achieve an upscale contemporary style.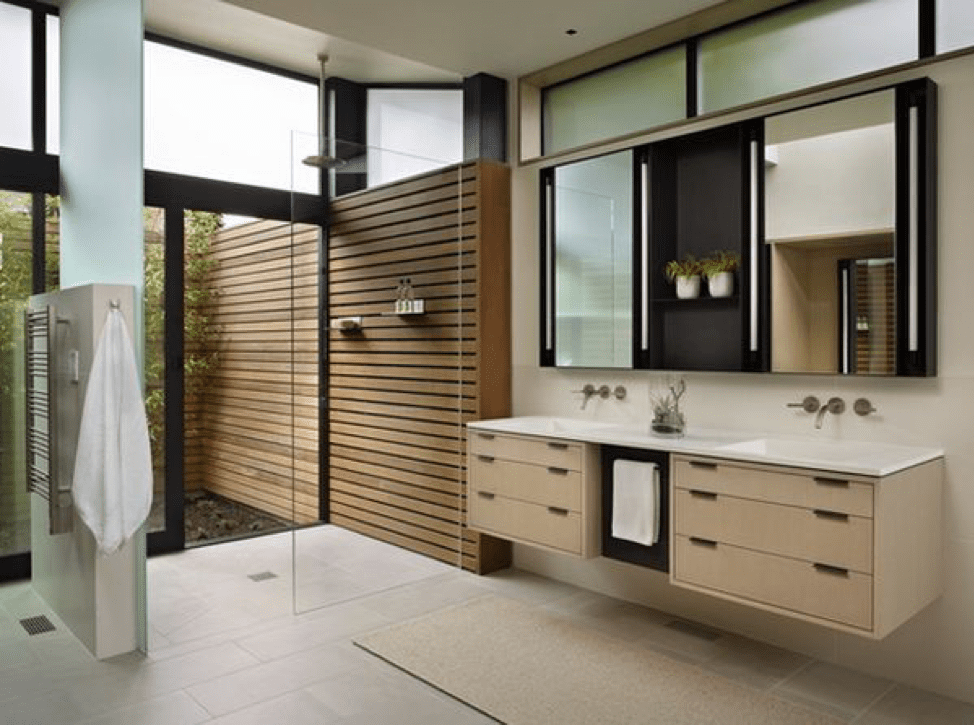 Image via Homedit
Inspired to Begin Your Bathroom Remodel?
Our team of renowned design-build experts has the experience necessary to carry out your luxury bathroom remodel.
With over 35 years of professional experience as the premier luxury renovation firm in Westchester County, NY and Fairfield County, CT, we know exactly what it takes to create beautiful, upscale bathrooms.
Let's discuss how we can make your dream bathroom a reality: