Nearly every home building or remodeling project, no matter how large or complicated, starts in exactly the same way. It all begins with an idea; a spark of creative vision that says, "What if we…"
The next step is to align yourself with others who have the skills and talents needed to catch sight of your vision and begin crafting it into a reality.
Meet Our Clients
In the case of this Greenwich remodeling project, our clients have no shortage of creative vision. Working in the fashion design industry, an appreciation for style and unique blends of color and texture come naturally.
Their moment, that spark of creative vision, came when they decided to completely remodel this Greenwich property and turn it into their "dream home." It would no longer just be a house, but a completely customized place that perfectly reflected their personality and met their needs. And, not just their needs, but also the needs of their two young children. While many custom homes are built with an emphasis on the "wow factor," this house needed to offer the practicality that daily life as parents calls for.
The property is not just a show piece, but a home.
Planning This Incredible Greenwich Home Remodel
Our client supplied the overarching vision, working closely with well-known architect and designer Robert Couturier. We at Gerety Building & Restoration were invited to help with not only the design work in an aesthetic sense, but also to analyze the plans from a practical construction perspective. This is an area of specialty for us. We're happy to not only provide design and architectural services, but also to work closely with a professional that our clients are already collaborating with.
In this case, we worked hard to determine how best to make the developing sketches and plans come to life. This included a thorough structural analysis, and we also invited an engineer to come and ensure that this new construction would endure.
"Once the infrastructure is built, we can move forward with confidence that the finished product will provide lasting results and stand the test of time." -Keith Gerety
This analysis, collaboration, and planning was one of the most involved aspects of the entire project, but it laid the foundation for a build that was successful in every sense.
Exterior Building and Remodeling – A Breathtaking Welcome
We've all heard the term "curb appeal." It refers to that feeling you get, whether positive or negative, as you pull up to a home, peer out the car window, and look around.
The curb appeal for this property is undeniably breathtaking.
What exactly did our exterior work involve?
A new cedar shake roof
Copper gutters
New turret
We built all the railings on the outside of the home
New windows and doors
Added a second-floor outdoor patio
We built a bluestone porch patio
New steps
We also built a section of the house that connects the children's wings to the master bedroom
The colors, materials, details, and architectural lines come together to create a simultaneously stunning and warm style. It's inviting and friendly while still offering more than you can absorb without a second and third look.
Creating a Beautiful, Custom Kitchen
No longer seen as a purely utilitarian room, today's kitchen is often one of the most prized areas of the home. The potential for customization and letting your personality shine through is nearly limitless thanks to the unique combinations of colors, textures, and patterns that you can include in your design.
Remember how we said that one of our client's goals was to create a blend of beauty and function throughout their home? This kitchen really exemplifies that. Yes, the gleaming countertops and bright, clean look are stunning, but this is also a place where snacks will be prepared for the kids, or friends can gather and chat while the meal finishes cooking.
So Much Is Great About This Great Room
One of the major highlights of the home is the great room. As we mentioned above, the homeowners wanted a place where they could easily entertain and enjoy time with visiting friends. Their other goal was to have a space where they could feature their artwork. This phenomenal room meets both these needs, and does so in style.
Tall ceilings, exquisite trim, endless natural light, and the central fireplace all work together to make this a functional, beautiful great room.
From Teak to Italian Marble, These Bathrooms Can't Be Missed
While this complete, top-to-bottom home remodel had many complexities and moving parts, acquiring the materials for the bathrooms was actually one of the most demanding aspects of the work we did.
To show you exactly why this was, let's start in the master bath.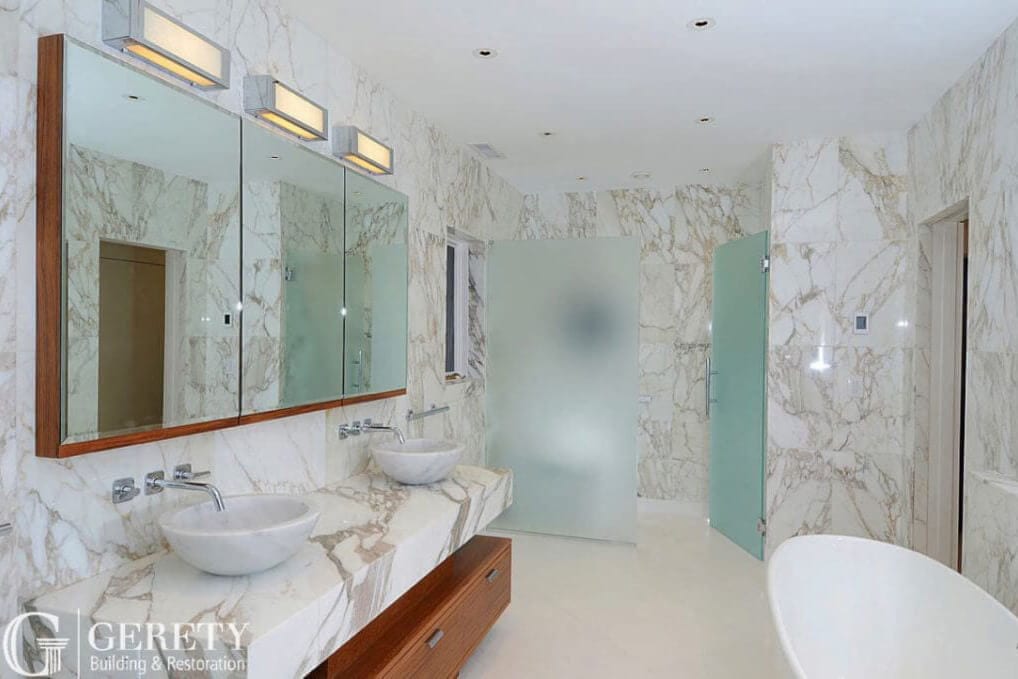 The gorgeous material you see above is marble. And, not just any marble, but hand-selected Italian marble chosen by a fabricator that we sent over to Italy. Once custom-fabricated and in place, it creates a smooth, classy interior that really is unlike any other.
One of the guest bathrooms has another very unique and beautiful material incorporated into the design.
Can you spot it?
If the rich flooring jumped out at you, you have a good eye. Although, you still get points for noticing any of the other eye-catching features. This guest bath has a lot of wonderful details to soak in, including:
Custom floating vanity
Arabescato Corchia marble countertop
The shower ceiling, bench, and walls are also made of Arabescato Corchia marble tiles
The shower floor consists of honed mosaic tiles made from limestone
The flooring in particular, however, is worth highlighting. It's made from teak, a wood that you often hear in association with boating. Wood flooring in bathrooms is generally frowned upon, but because of teak's dense, water-resistant nature, it gets along beautifully with wet environments.
This Greenwich Remodel Was a Pleasure!
Because this remodel involved the entire house, we wish we could take you on a complete walk-through. There's something to see around every corner, from the children's wing with its bedrooms, bathrooms and playrooms, right to the beautiful new turrets. Every inch was carefully planned to maximize style and function.
This project took 18 months to complete, from conceptualization to the finished product. We truly enjoyed this experience and appreciate being entrusted with such an incredible home transformation.
If we can help answer any questions you might have regarding home building, remodeling, and design, why not contact us at Gerety Building & Restoration? This is what we love to do, and we make sure our passion shines through every detail.