When you think of kitchen building and remodeling, what comes to mind? If you're like most homeowners, visions of counters, textured backsplashes, deep sinks, storage space, and stunning cabinetry dance in your head. Those are all definitely important and add to the function and "wow factor" of the design.
We would also encourage you, though, to consider another crucial component in the creation of a functional, stylish kitchen. Ready for it?
Lighting.
What Exactly Does Kitchen Lighting Offer?
To help you put together an illuminating plan, let's take a closer look at the different kinds of lighting at work in your space, and the actual roles that they perform:
Ambient – This is the general kind of lighting that you turn on when you walk into the room. After all, nobody wants to stub their toe in the dark or squint at a letter they're trying to read because of a dim overhead.
Task lighting – As you may deduce from the name, this category of lighting has a very specific function to fulfill. Whether you're chopping vegetables, looking over bills in a corner nook, or checking to see if the chicken is cooked through on the stovetop, you need a light for the purpose right at your finger tips.
Style – There are nearly limitless options for adding stunning style through your choice of light fixtures. From rustic lanterns to sleek pendants, and all the way over to shimmering chandeliers, you can find the blend of style and function you're looking for. Take a look here to see some examples!
Ambiance – Not to be confused with "ambient," ambiance refers to the mood you create.
Ready for an activity? Take a look at the photo below and see how many different examples of lighting you can find. And, if you want to learn more about this kitchen remodel, the details are right here.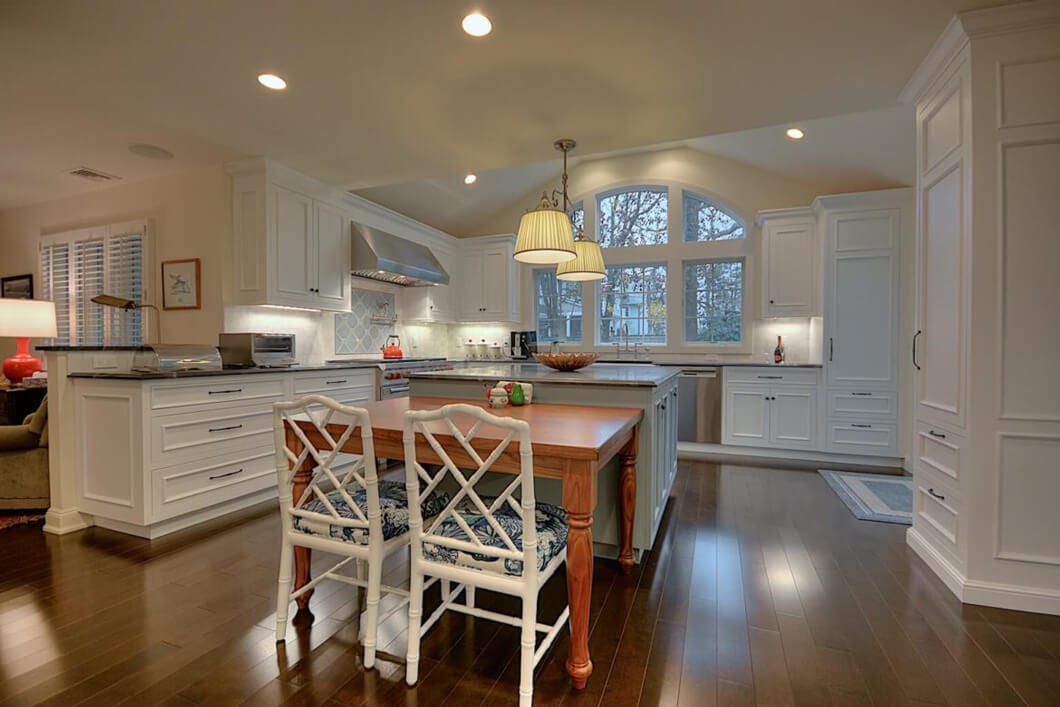 A Few Bright Ideas – 4 Tips for Choosing Your Kitchen Lighting
Consider your space – Adding a lot of fixtures and options may be stylistically appealing, but if you have an ample supply of natural light you simply won't need all of that lighting during the day.
Consider your needs – Situating useful task-oriented lights requires planning, but it's time you'll never regret investing. Think through your daily needs, your kids' study habits (if they like to work in the kitchen), and where your meal prep stations will be.
Consider under-cabinet lighting – It's relatively easy to install, and it offers both task lighting and ambience.
Consider your options – Take the time to browse home design websites and magazines. Here's another helpful resource to get you started: Our Best Kitchen Lighting Tips, from Better Homes and Gardens.
Talk to Your Professional Kitchen Remodeler
A professional builder can help you navigate your options, creating a brilliant plan to meet your needs. If you have any questions for us, our team at Gerety Building and Restoration would love to be of service. Why not contact us today?