When it comes to  flooring options for your home, there are clearly many choices available. While some homeowners prefer the soft feel of carpet, or the look of tile, most homeowners choose hardwood flooring. Hardwood flooring is not only the easiest to maintain, but it is also the most versatile and is suitable for almost every room in your house.
Two types of hardwood flooring installed today are: pre-finished hardwood and engineered hardwood.
Pre-finished hardwood is the most common type of wood flooring. It is milled from a single piece of hardwood depending on which type of wood you are using. When the factory applies the finish treatment to the wood, they are able to use very powerful chemical sealers, which are applied by a commercial processes not available to on site installers.Typically this consists of aluminum oxide crystals embedded in a UV cured urethane coat. While site applied finishes warranty for 3 – 5 years, factory applied treatments will often have warranties of 5 – 25 years or more. The only downside to solid wood flooring is that it expands and contracts with changes in your home's relative humidity. However this is easily compensated for by leaving an expansion gap between the floor and the wall, which is then usually covered by base molding.
Engineered hardwood flooring is quite different than regular wood flooring and is more popular especially in areas like New York where temperature and humidity are constantly changing. Contrary to pre-finished wood, engineered wood flooring is comprised of three to twelve layers of hardwood. Each layer is stacked in a cross-grain configuration and bonded together under heat and pressure. As a result, engineered wood flooring is less likely to be affected by changes in humidity and can be installed in all levels of the home. Engineered wood floors are also generally easier and less expensive to install.
Because of these properties, engineered wood flooring is a great option to lay over radiant heat if wood is your choice of flooring. While tile flooring can crack and become displaced due to the heat produced by radiant heat, engineered wood can better sustain the heat and moisture.
Below you can see the difference between the two types of hardwood flooring: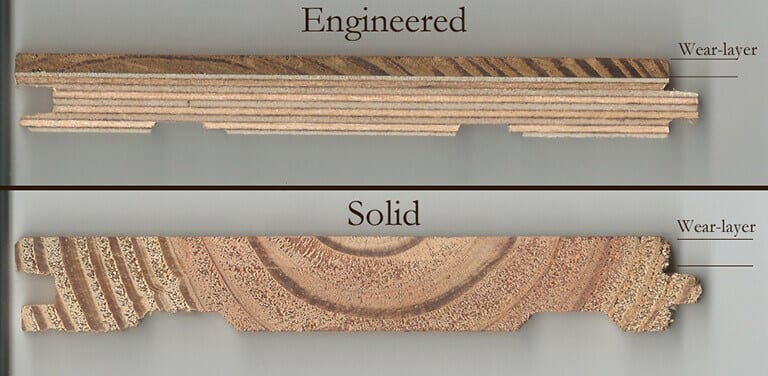 Here is a recent radiant heat project that is nearing completion in Larchmont, NY. These homeowners decided to install radiant heat flooring in their kitchen and lay engineered hardwood flooring over: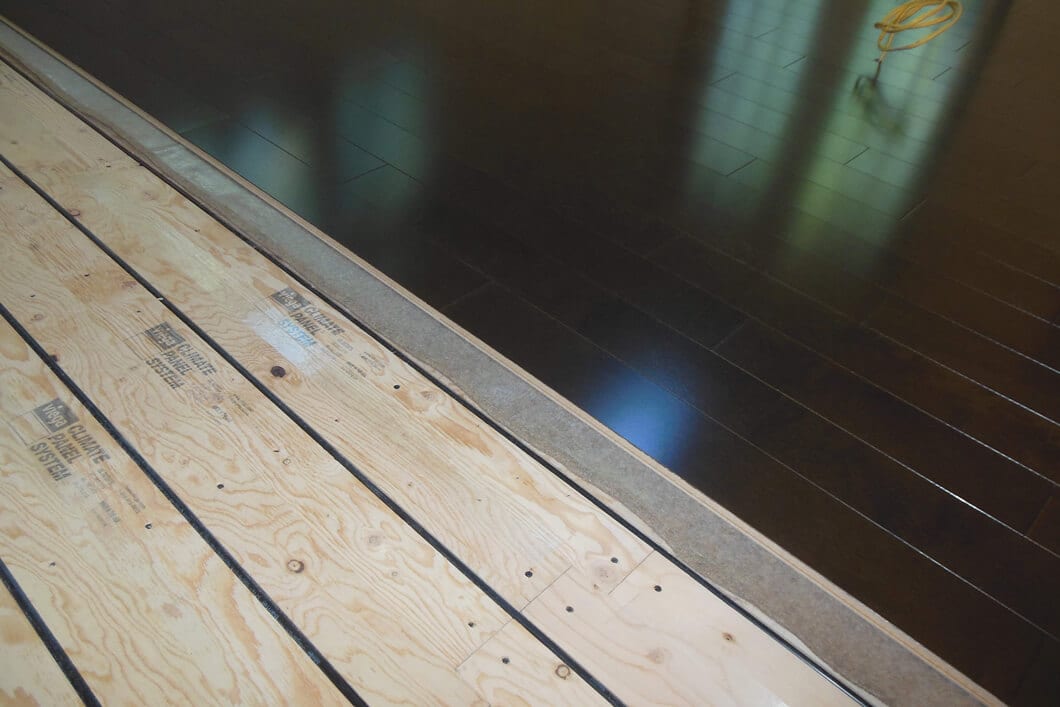 Learn more about our flooring installation, refinishing and restoration services here.